Learn more about the administrators, faculty, and professional advisors who work together to provide a valuable and meaningful interdisciplinary education at UCF.  Meet the team and travel back in time to 1969 when the earliest iteration of this academic program provided a viable alternative for students seeking a greater breadth of education than a traditional disciplinary degree.
Administrative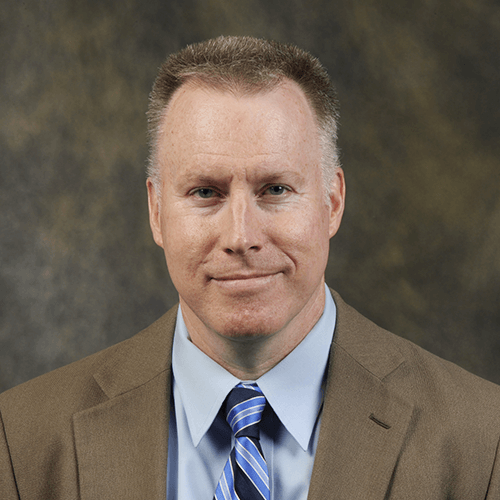 Dr. Wayne Bowen, Interim Associate Dean for the College of Undergraduate Studies, Director of IDS, Interim Director of UCF Abroad, and Professor of History
Dr. Bowen became Director of Interdisciplinary Studies on August 1, 2017. He earned his M.A. and Ph.D. in European History from Northwestern University, a Master of Strategic Studies from the US Army War College, a B.A. in History from the University of Southern California, and is also Professor of History at UCF. He was formerly the Director of University Studies and Chair of the Department of History at Southeast Missouri State University. Bowen's research has focused on Spanish history, with five published books in this field, and two additional ones on the Middle East. As someone who changed his major from physics to history as an undergraduate, and his career plan from petroleum engineer to historian, he identifies with IDS students seeking to find their own academic and professional paths. Dr. Bowen is also a Colonel in the US Army Reserve, with completed tours in Bosnia and Iraq.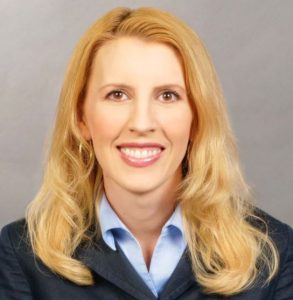 Dr. Danielle Eadens, Assistant Director of IDS
Dr. Danielle Eadens joined the Interdisciplinary Studies faculty at UCF in Fall 2019 as lead faculty for the Integrative General Studies program and has taught in Higher Education since 2005. She holds a PhD in Interdisciplinary Education (foci: Criminology, Special Education, & Mass Communications) from the University of South Florida (USF). Her other graduate work includes two Master's degrees, one in Educational Technology from Northern Arizona University (NAU) and one in Special Education from USF. She holds a Bachelor's in Mass Communications from USF. After working in public schools as a special education teacher, she served as a Professor of Special Education and the Coordinator of a dual major (Special & Elementary Education) program at NAU and in a similar role at St. Petersburg College. Dr. Eadens is a national speaker, published author, and currently researches changing paradigms within education and beyond.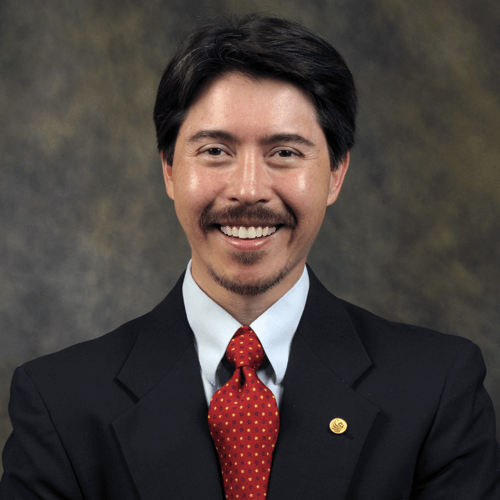 Pete Wallace, Academic Advising Director
Mr. Wallace joined Interdisciplinary Studies in June 2008. Immediately prior to joining the office, he worked on curriculum development and program enhancement projects for the Interdisciplinary Studies undergraduate program while serving in the Office of the Vice Provost for Academic Affairs. Mr. Wallace earned a B.S. in Psychology and an M.A. in Counselor Education before starting work full-time at UCF in 1999.  He has served in Judicial Programs, Campus Life, Student Conduct, Dispute Resolution Services, and The Burnett Honors College before joining Undergraduate Studies and Interdisciplinary Studies.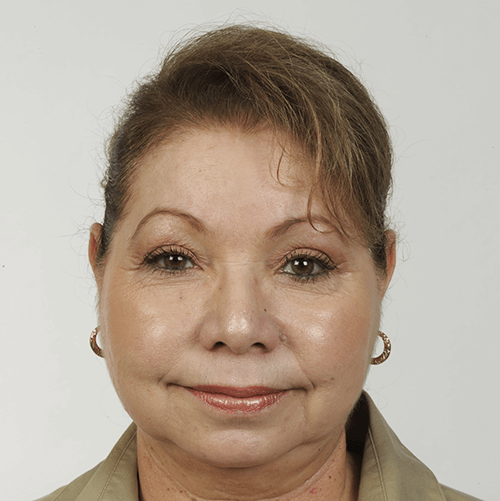 Iris Rios, Administrative Assistant
Ms. Rios joined Interdisciplinary Studies as Administrative Assistant in March 2008. Prior to this position, she served for 17 years in various key positions including Operations Manager for the Counseling Department at Cuyahoga Community College. In that role, she worked closely with administrators, faculty, staff & community leaders to ensure retention and success of students until graduation. She has also worked as an English-as-a-Second Language Instructor in the metro Orlando area. Ms. Rios earned dual undergraduate degrees in Business Administration and Real Estate/Mortgage Finance. She continues her studies in pursuit of a Bachelor of Science degree in Interdisciplinary Studies at the University of Central Florida.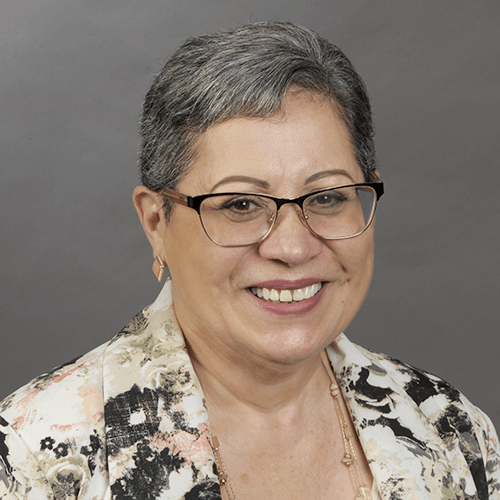 Miriam Rosario, Office Manager
Ms. Rosario joined the Interdisciplinary Studies team in March 2011. Prior to coming to UCF she had worked at a family health center as an HR administrator, in the WIC and Community Services programs within a community action agency, as well as in brokerage firms on Wall Street.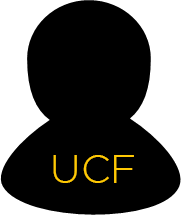 Carolina Cabrera Lopez, Academic Program Coordinator
Ms. Cabrera Lopez joined the Interdisciplinary Studies team in March of 2022. Prior to joining the office, she worked as a student assistant in the Dean's Office for the College of Undergraduate Studies for 2 years. She earned a Bachelor of Science in Psychology from the University of Central Florida in 2021. Carolina will soon be pursuing a Master's Degree in the field of Education or Social Sciences here at UCF.
Faculty
Advisors
Interdisciplinary Studies has a long history at the University of Central Florida. In 1969, the year after the Institution, then known as Florida Technological University (FTU), welcomed its first students, the Bachelor of General Studies degree (BGS) in General Studies was established. By 1972, the BGS degree was discontinued and the General Studies program began offering Bachelor of Arts (BA) and Bachelor of Science (BS) degrees in General Studies. In 1978, by an act of the Florida Legislature, FTU underwent a name change and became the University of Central Florida. A few years later the General Studies program also underwent a name change and became the Liberal Studies program.
Between 1981 and 2006 the Liberal Studies program offered students BA and BS degrees with a major in Liberal Studies. While the program evolved a great deal across its quarter century, the foundation of the program was always to offer academic flexibility to students. The Liberal Studies program "recognize[d] that… there [were] many combinations of courses which [could] be structured into meaningful programs to meet the needs of individual students" (1989-90 Undergraduate Catalog. University of Central Florida. 1989. 22(1). P 72.) As such, a Liberal Studies degree allowed students, whose academic interests or career plans could not be met by another academic discipline, to build a major that suited their needs.
During the 2005-2006 academic year, the Liberal Studies program underwent its first independent program review. A consultant from outside the University was brought to campus to perform a thorough examination of the program. While the consultant was impressed with the Liberal Studies program, she brought fresh ideas to improve the program. These ideas, built upon the existing foundation of the Liberal Studies program, were meant to strengthen the academic experience of students pursuing the major. These suggestions included changing the program's name to more aptly reflect its curriculum, developing foundation courses to help students better understand the interdisciplinarity of their degree, creating a common academic experience, and developing a stronger community amongst the students pursuing the major. The University chose to implement a number of the suggestions brought forth. By 2007, the new Bachelor's in Interdisciplinary Studies program was ready to replace the Liberal Studies degree program.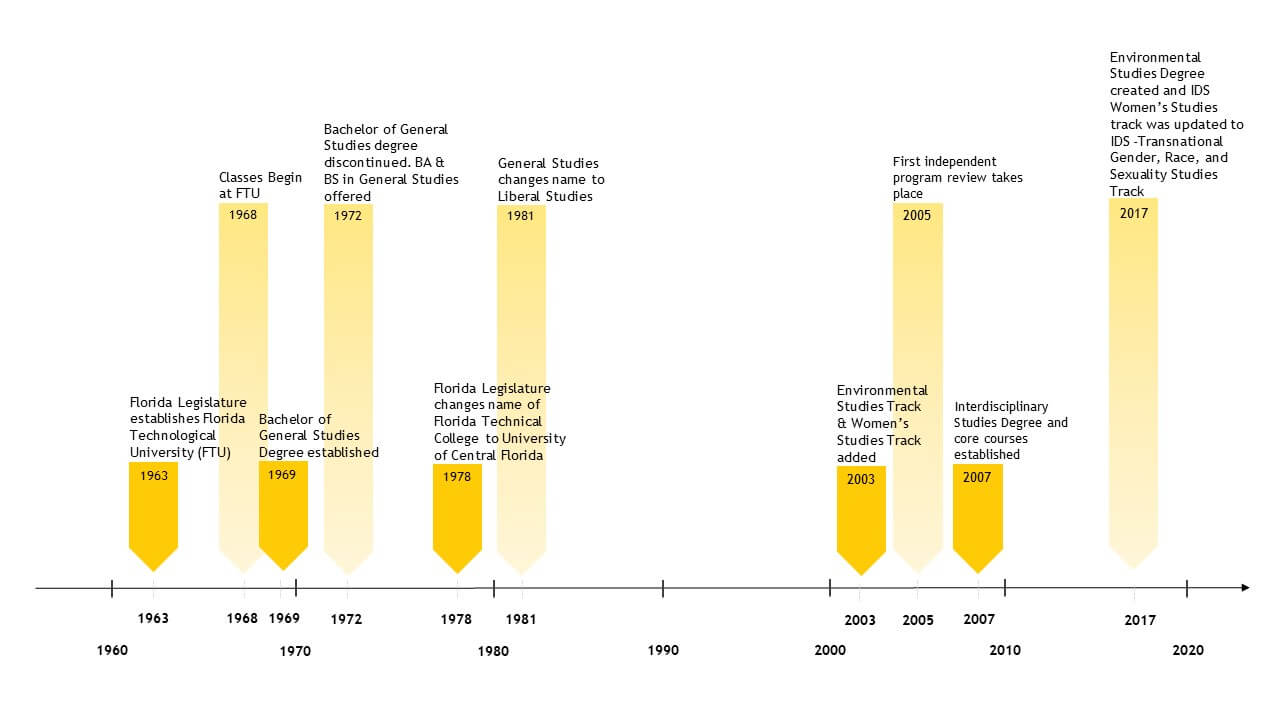 Because the Liberal Studies program provided the foundation for the Bachelor's in Interdisciplinary Studies program, there are a number of similarities between the two. However, the Bachelor's in Interdisciplinary Studies program offers students an improved academic experience. While the program still focuses on providing academic flexibility to help students meet their individual needs, the Cornerstone (IDS 3933) and Capstone (IDS 4934) courses provide a common academic experience to all students pursuing a track within the degree. These courses also add to the curriculum a basis for interdisciplinary study, career development, and graduate school preparation, and provide a solid base upon which the Interdisciplinary Studies community can grow.
In 2017-2018 Interdisciplinary Studies welcomed some new programs, including a certificate in Geographic Information Systems (GIS). Additionally, we introduced the Bachelor of Science in Environmental Studies, which prior to 2017-2018, was a track within the Interdisciplinary Studies degree. The Bachelor of Arts in Interdisciplinary Studies – Women's Studies Track was also replaced by the Bachelor of Arts in Interdisciplinary Studies – Transnational Gender Race and Sexuality Studies (TransGRaSS) Track.
For the 2019-2020 academic year, the Environmental Studies curriculum was revised to include a research methods course, the Bachelor of Arts in Interdisciplinary Studies – Transnational Gender, Race, and Sexuality Studies Track was expanded and revised to become the Diversity Studies Track, and after a 47 year hiatus, the Bachelor of General Studies (BGS) degree has returned for students interested in completing the Integrative General Studies major.
Numerous researchers have found that the number and distribution of interdisciplinary undergraduate programs have increased substantially in the past 25 years, outpacing the growth rate of student enrollments. The Bachelor's in Interdisciplinary Studies program at UCF is an example of this exceptional growth. Almost 9,000 degrees in general studies, liberal studies, and interdisciplinary studies have been awarded at UCF since 1971. The number of degrees awarded in General Studies in 1974-1975 was 37 compared to 564 degrees awarded in 2008-2009, a 1,424% increase in degrees conferred in a 34-year period, nearly triple the growth rate of bachelor's degrees conferred university-wide in the same time-frame.