The Power of Collaboration
At the College of Undergraduate Studies, the spirit of collaboration and collective impact thrives. We firmly believe that fostering strong connections with the communities we serve is not just a commitment but a responsibility. Through meaningful and sustainable partnerships, we aspire to transcend the boundaries of academia and engage with diverse stakeholders, including local organizations, businesses, government agencies, and residents.
Our dedication to community-driven initiatives, service-learning projects, and research collaborations empowers us to address pressing societal challenges together, creating a transformative educational experience that extends far beyond the confines of our campus. Join us in cultivating a profound sense of shared purpose as we collaboratively forge a brighter future for all.
Our Community Partners
Click on each logo to visit that partner's website.

Partner Volunteer Opportunities
Lion Mentor Opportunity
The OCPS Academic Center of Excellence, a community partnership school, needs you!
The purpose is to:
• improve student performance
• provide additional learning opportunities
• learn social skills
• develop self-confidence & much more!
Register Here To Become a Lion's Mentor!
Contact Expanded Learning Coordinator Kasiim Barr for more information!
kasiim.barr@chsfl.org
Work Cell: 321-240-0832
Work Ext. 2344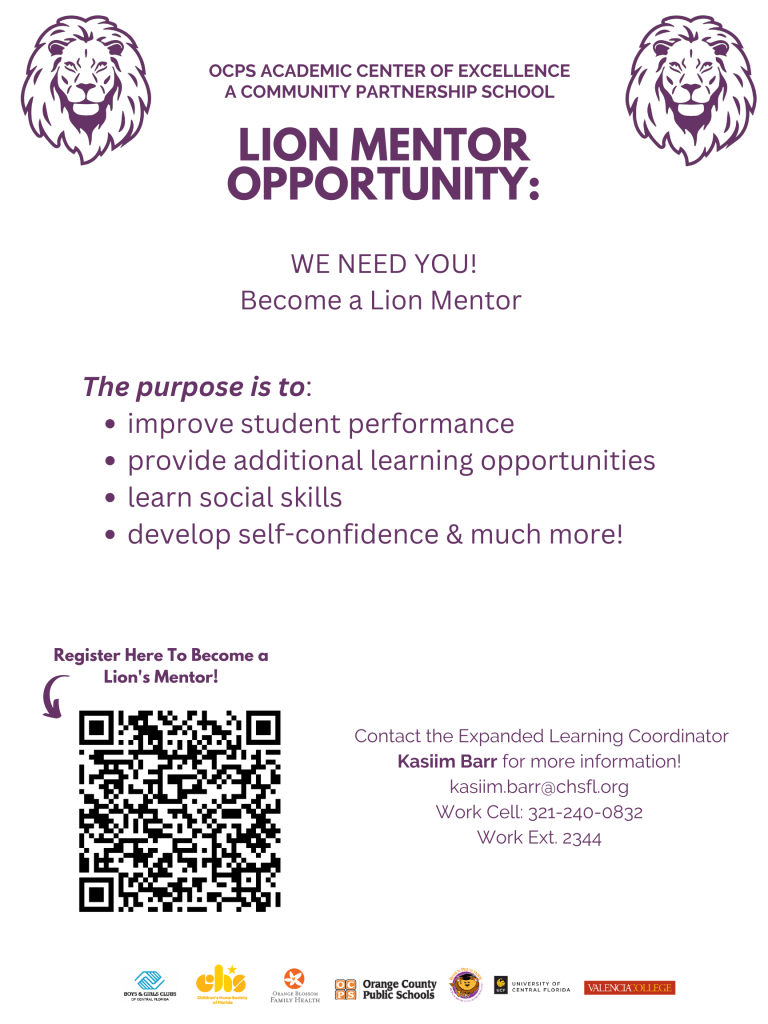 Past Events
Community Partnership Luncheon Photos | July 13, 2023
---
Community Partnership Luncheon Videos | July 13, 2023
Testimonials
Our community partners are essential to the success of our students and Central Florida. Without our partners, who share our vision to enhance our community through its citizens, we would not be able to create opportunities for our students to develop the high impact skills that will allow them to reach for the stars after graduation.
In the spring of 2023, I had an incredible experience presenting at the 8th Grade Take Over Day at OCPS ACE. Witnessing the students actively engage with my presentation and contemplate their future, highlighted the significance of introducing college experiences and opportunities early on. Collaboration between the College of Undergraduate Studies and OCPS plays a pivotal role in laying the groundwork for higher education in students, making such events vital to their academic and career development.
Want to Become a Community Partner?
If you would like more information about the College of Undergraduate Studies or to discuss partnership opportunities, please contact:
Carolina Cabrera-Lopez

Email: Carolina.Cabrera-Lopez@ucf.edu
Phone: 407.823.2373