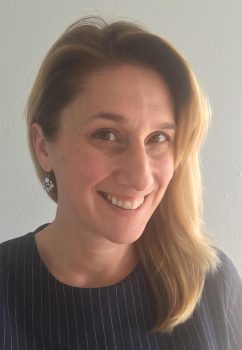 Major
Exceptional Education
Degree(s) earned at UCF and year degree(s) was/were conferred
Doctor of Philosophy in Education - Exceptional Student Education track (2012) and Master of Arts in Exceptional Student Education (2007)
Employer
Mursion, Inc. in San Francisco, California
What do you do and how long have you been doing it?
I have been with Mursion since 2014, and I am the Executive Director of Educational Programs and Research.
In what ways are you involved in the community outside of work?
I volunteer for Performing Arts Educators, a non-profit organization with a mission to inspire individuals, and strengthen performing arts organizations by creating access to iconic venues such as Carnegie Hall, Lincoln Center, and the Olympics.
Are you working in the field of industry/business you thought you would? Is your career what you expected it would be? How is it different? How is it similar to what you expected?
I work at Mursion, a virtual reality (VR) tech start up in San Francisco that uses VR technology invented at UCF. Mursion partnered with UCF to license the technology and bring it to scale, and in my capacity as Executive Director of Education and Research, I get to work with over 80 institutions of higher education across the country to help them integrate VR into their university classes. However, when I first stepped on the UCF campus, I was not a "techie" – I knew how to make a PowerPoint slide show, and that was it! My time at UCF exposed me to people who were innovating in technology, computer science, and education. I learned from everyone, and now have the best job in the world—using VR to help people improve their interpersonal skills in education, health care, and corporate learning. I could never have imagined that future for myself – and it only happened because of my time at UCF. I have come to realize that UCF is very unique in its emphasis on business/education partnerships, and I encourage everyone to get involved with interesting opportunities on campus.
What was the most valuable thing you learned at UCF?
Relationships are everything. Invest time with people who will mentor you; when you graduate, stay in touch with your mentors and colleagues – not just your friends. Not only will you enjoy your experience at UCF more, you will also leave UCF with a network of people who care about your success. That network will become invaluable as you navigate the post-graduation world.
What was the best advice you received from someone at UCF? Who gave you the advice?
Dr. Lisa Dieker, UCF professor and coordinator of my Ph.D. program, was a great mentor who reminded me to keep a work-life balance.  When I earned my Ph.D., she gave me a picture frame with a clock and pen mounted on it. She told me to put a picture of my loved ones in the frame, so that every time I looked at it I would remember to make time for academic pursuits and important people in my life. It's a great symbol of balance!