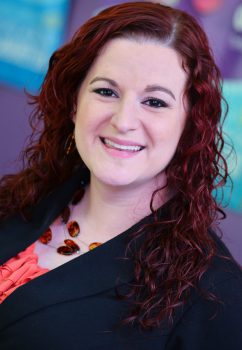 Major
Theatre
Degree(s) earned at UCF and year degree(s) was/were conferred
Theatre BA, Literature Minor (2005); Theatre MA (2008)
Employer
Orlando Repertory Theatre (Orlando, FL)
What do you do and how long have you been doing it?
I serve as the Development Director for Orlando Repertory Theatre (The REP) the State of Florida's only full time, professional Theatre for Young Audiences. In my role, I oversee all donated funds to our organization. This includes grantwriting, corporate sponsorships, individual donations, direct mail appeals, special events, working closely with our board of directors, and more. I have served in this capacity for five years at The REP, and for nine years overall.
In what ways are you involved in the community outside of work?
In addition to my role at The REP, I serve as a reviewer on grants panels (for the State of Florida, Orange County, and United Arts of Central Florida,) as a consultant for small and medium-sized arts and cultural nonprofits, and as a freelance grantwriter for the arts and cultural sector. I advocate on behalf of funding for the arts and cultural community at the local and state levels and am a member of the Association of Fundraising Professionals as well as Kiwanis Club of Orlando.
Did you work full or part time as a UCF student? How do you think this helped you when you were seeking a permanent position?
My family was very supportive of me when I began school, insisting that I not work at all during my freshman year of undergrad so I'd have as much time as possible to focus on schoolwork and acclimating myself to the college environment. This really helped me with my transition into my collegiate career, but wasn't sustainable, long-term. I began working part-time during my sophomore year of undergrad – at the BP gas station! It was difficult (our shifts started at 5:00 AM) to schedule in with a full course load, but balancing work with school helped me immensely with time management skills. Toward the end of my undergrad program, I began work full time in a position in an office environment – an apartment locator service. I was very lucky that my employer allowed me to schedule my availability around my classes. I actually remained in this position after graduation and through the first half of my graduate program. I landed my first job in my field here! I helped the Executive Director of an arts organization find housing for one of his staff, and through that relationship, I was invited to apply for a position within his organization. I think what helped me most when seeking a permanent position was the willingness to say "yes" to positions that weren't my first choice. I had never considered fundraising before being offered my first position, but rather than turn it down and walk away, I gave it a shot. It's turned out to be a wonderful career that rarely feels like "work," and I'm only in this role because I was willing to say "yes" to an opportunity!
What was your major? How did you determine your major? Did you change majors while at UCF?
When I began my undergrad at UCF, I was a Psychology major. I picked this major as a high school senior because Psychology interested me, and it seemed like degree that would offer me multiple employment opportunities after graduation. As a lifelong "theatre kid," though, it didn't take me long to find the theatre people and start striking up friendships. By my second semester, I had changed my major to Theatre. It took me another few weeks to work up the courage to tell my parents! While my decisions worked out well for me, ultimately changing my major was a leap of faith. I wasn't sure what I wanted to do, exactly, in the theatre; I only knew that I wanted to be around it. (My parents forgave me.)
Are you working in the field of industry/business you thought you would? Is your career what you expected it would be? How is it different? How is it similar to what you expected?
Yes! I have worked in the performing arts for my entire career after grad school – the majority of it in theatre. However, it is not at all what I thought it would be. As I continued throughout grad school I realized I enjoyed academic writing. I liked research, and I liked talking about ethereal theatrical artistic concepts in hard, objective, technical ways. I thought that meant that a life of research was my intended path. It's entirely thanks to my first employer that I ended up in fundraising. He was a brash, irreverent man, and he noticed while I called around apartment complexes asking for move-in specials that I was good at being "polite, but pushy at the same time." He asked if I'd ever considered a role in fundraising, and, jumping at the chance to work in ANY role in the arts, I took it! What I discovered is that my research and writing skills lent themselves well to grantwriting and corporate correspondence, and my customer service skills meant I interacted well with individual donors, board members, and other VIPs. I fell into arts administration, which wasn't even on my radar as a career field when I was in undergrad or grad school, and it turned out I loved it. I'd like to say part of me always expected to work in the theatre, but that's not entirely true. There were moments after undergrad where I thought I might try real estate, or work my way up the chain for my current employer. So, in a strange way, both everything and nothing about my career is what I expected!
What advice would you give your 20-year-old self?
I'd tell my 20-year old self to keep pushing. When I was 20, I had just accepted the position at the apartment locating service (my first office job,) was reeling from a rigorous year of coursework and very little sleep, and had just lost my father to cancer. At times, it was hard to think there was a way out from underneath all of that. I'd tell myself to keep pushing. Well, that, and to worry a little less. Stress doesn't accomplish anything other than to make you feel worse.