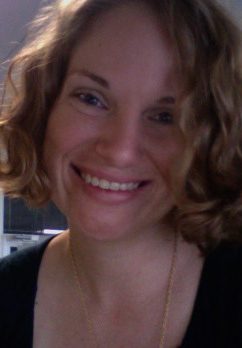 Major
English BA; Creative Writing MFA
Degree(s) earned at UCF and year degree(s) was/were conferred
BA 2005, Burnett Honors College graduate, and Honors in the Major; MFA 2007
Employer
Full Sail University, Winter Park, FL
What do you do and how long have you been doing it?
I am a Course Director in the English Department (8 years). I also teach writing courses at Full Sail and work for Full Sailu2019s writing center.
In what ways are you involved in the community outside of work?
I am active in Orlandou2019s literary community by participating in readings and poetry slams. I am also the poetry editor for Fantastic Floridas, a literary journal website based in Orlando.
Did you work full or part time as a UCF student? How do you think this helped you when you were seeking a permanent position?
As a grad student, I held positions in the English Department with The Florida Review, and UCFu2019s Writing Center. I also taught English Composition, and Creative Writing. Off campus, I taught Spinning classes at the YMCA.
What was your major? How did you determine your major? Did you change majors while at UCF?
I was an English major, Creative Writing track. I started with 3000-level courses my freshman year, so I felt like I had a focus on my major from the very beginning. With every gen-ed class I took, I thought, "How can I use what Iu2019m learning in my writing?" Later, in grad school, I thought about what I would actually do for my career, and I had the opportunities to explore different areas through assistantships and jobs such as editing and teaching.
Are you working in the field of industry/business you thought you would? Is your career what you expected it would be? How is it different? How is it similar to what you expected?
I think the dream of every creative-writing student is to make a living writing. The reality is that, for most writers, writing alone doesnu2019t pay the bills. While in school and shortly thereafter, I gained experience in editing, event-coordinating, and teaching. I was interviewing for an event-coordinator position when, during the interview, I realized that I really wanted to teach. My family is full of teachers, and Iu2019d had a passion for teaching since I was a child. When I focused on my career goals, I wanted to join teaching and creative writing. Shortly after graduating with my MFA, I was offered a full-time teaching position at Full Sail University. A few months later, I was given a Creative Writing course to teach, and I have taught that course ever since. For these reasons, my education directly affected my career. My career is better than Iu2019d ever expected. The company I work for values me, and I value it. The creative atmosphere at Full Sail encourages creative endeavors, and is made up of talented, creative people. We motivate each other. I write when Iu2019m not working, and I keep my writing career separate from my teaching career. I write poetry and memoir.
What advice would you give your 20-year-old self?
I would tell her to relax, and be more forgiving of herself.
What person or group had the biggest influence on you as a student? Why?
I held offices, including a year as president, in UCFu2019s literary organization (Cypress Dome Society). I coordinated readings and fundraising events, and I made friends with others who loved reading and writing. I joined CDS during the second semester of my freshman year. I had felt lost, disconnected, and overwhelmed by the number of students (now, 36,000 seems like nothing for UCF). Through Cypress Dome Society, I made friends that I still talk to today, and I worked closely with faculty mentors. I was also an editor for UCFu2019s student literary journal, The Cypress Dome, and manuscript-reader for The Florida Review. These experiences led directly into my editor positions at The Florida Review when I was a grad student (one year as Assistant Managing Editor, and one year as Managing Editor).
Looking back, what are you most proud of about your time at UCF?
Iu2019m proud of earning a Founderu2019s Day Award, and of the dedication I put into my work, and the effort I made to set myself apart from my classmates. I also received a study-abroad scholarship from the Burnett Honors College for a semester in Urbino, Italy, and several scholarships from the English Department through the years.
What was your most valuable experience outside of the classroom and why was it valuable for you?
I learned a lot from having coffee with my friends in the bookstoreu2019s cafe. There, I felt like I belonged.