Digital Storytelling and Integrative Learning
and how they can work for your course!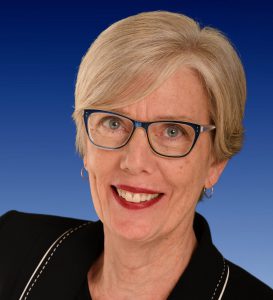 Lisa C. Peterson
Associate Instructor
Film and Mass Media
"By telling thoughtful stories, we clarify our own thinking about what we have learned to share with others in a profound way that sticks with us over time."
What Is Digital Storytelling?
When I created my first digital story, I had no idea what a powerful tool it would become for me in the classroom. I was consumed with the pleasure and satisfaction of expressing an idea with sound and image. It was only when the QEP program suggested that I incorporate digital storytelling into my syllabus, that the light bulb went on. Through the digital storytelling process, I was able to ignite in my students that same fire of complete absorption in self-expression that I had experienced in my first digital storytelling workshop. Digital storytelling can include personal narratives, instructional documentaries, public service announcements and narrated presentations, just to name a few.
In his article The Digital and Story in Digital Storytelling, Nguyen defines digital storytelling as "the telling and sharing of short stories (3-5 minute) accompanied with recorded sound (such as narration or music) and digital images. The process is comprised of two essential components, the story and the digitalization of the story" (72). The important aspect of Nguyen's definition is the two-part dimension. It is not only telling the story that matters, but rather the creation of the story through digitization where the student develops and practices important skills. It is the activity of choosing the story, choosing the elements that express the story, and choosing how it will interweave with the narration that builds valuable integrative-learning skills. In other words, the process counts most of all, not the end result.
"Designing and communicating information requires students to deepen their understanding of content while increasing visual, sound, oral language, creativity, and thinking skills" (Porter)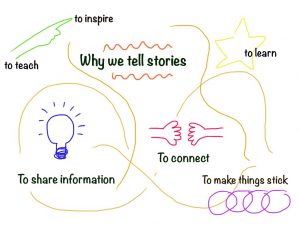 This summarizes the value of digital storytelling as a way to develop integrative learning across curriculums. Enabling students to understand their content with advanced sophistication, and using their language, writing, and visual skill sets to work the digital storytelling process achieves the QEP objectives:
The ability to reflect critically on their combined curricular, co-curricular, and career-prep experiences (The development of their story requires this reflection.)
To analyze their skills, and to synthesize their knowledge gained across diverse contexts. (Students must contextualize their stories so that they can be understood by a diverse audience.)
To identify key elements of successful launching materials, and important conventions for communicating with professional and disciplinary audiences. (Digital storytelling assignments encourage students to create with specific audiences in mind.)
To create launching materials that persuasively articulate their skills and qualifications and to demonstrate sensitivity to audience and professional/disciplinary conventions. (Students practice the fundamentals of presentation and of editing their work to only its most salient points.)
How can I use it in my courses?
You may at this point be thinking, "Well, that's dandy for the humanities, but how would that work in my STEM class?" However, since at its core digital storytelling is a communication tool, it can be adapted to suit any subject. "Digital storytelling is not about how to use VoiceThread or iMovie. It is not about the ability to create an MP3 recording and adding it to an XML file, so people can subscribe to our podcast channel. Digital storytelling is about different types of skills we are developing in the process"(Tolisano).
UCF's own Erin Saitta, Lecturer in Chemistry, used digital storytelling in her chemistry course as an extra credit option. Students created digital stories about how a chemical reaction worked relative to their own lives and another that demonstrated chemical reactions in some form of how-to programming.
The excellent article "Plug Your Disengaged STEM Students back in with Digital Storytelling" suggests using the Hero's Journey model to place the student as the Hero in their digital story about learning STEM concepts. https://www.swivl.com/2016/07/27/plug-your-disengaged-stem-students-back-in-with-digital-storytelling/
A Google search for digital storytelling in STEM courses yields dozens of results. For more ideas, see Appendix B.
I use digital storytelling in my introductory film production class. I know that seems like a no-brainer, but the reason I include it is because of the universal, not just discipline-specific skills that students practice: developing their voice, creating meaning, sharing and connecting, reflecting, knowing how to customize to their audience, contributing, and collaborating. The fact that they get to practice telling a story with sound and images is just a bonus!
"Learning about and putting the digital storytelling process into practice helped me formulate goals mostly in the academic sense. While my digital story was based on a personal subject I hadnu2019t thought about in a while, and thus brought back some fond memories, it also gave me a glimpse into what organizing a project might be like. Piecing the digital story together, after starting from nothing but an idea, was very satisfying."
"The prompt of the digital storytelling assignment got me thinking about what aspects of my life have really influenced me and are personally important to me. That self-selection was important to take the time to think about because the topic of my digital storytelling edit along with the other ideas that I shelved will become the topics I pull from to write more of my scripts in the future."
"It was different and awkward to share a story about myself with a bunch of people I didnu2019t know. It did help my confidence with sharing and it helped me get really deep and emotional which will help in my professional career."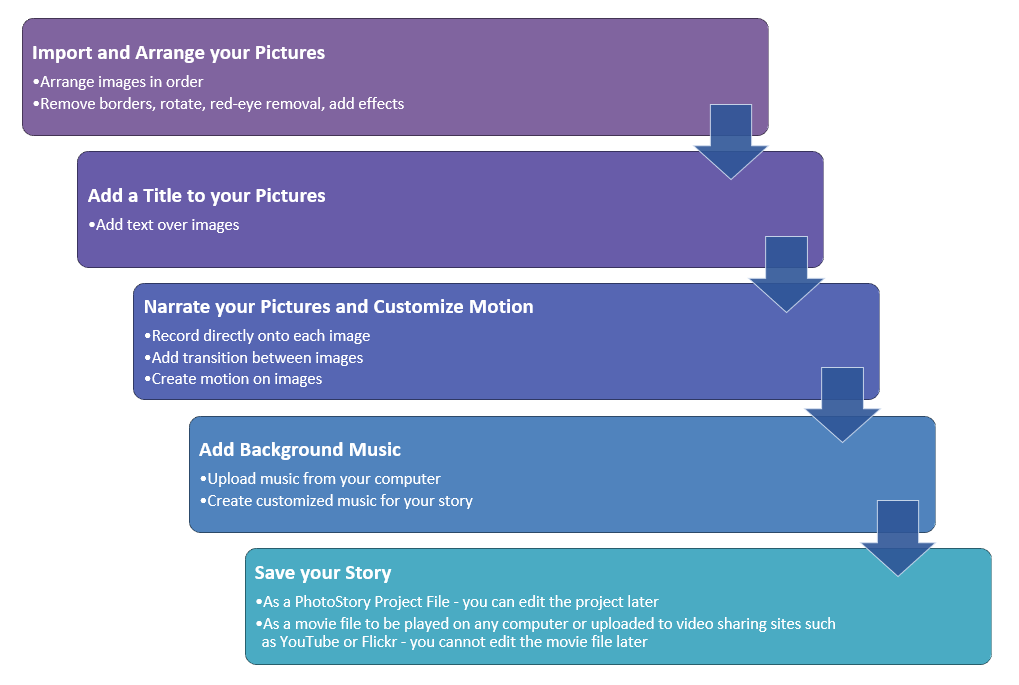 Is there a place for digital stories in my course?
Think about the answers to these questions when considering utilizing digital storytelling:
Course Topic and Objectives – What type of digital story would be a good tool for achieving course objective(s)?
Is there a manageable number of students in the class for this type of assignment? Will you (with GTAs or HIP peer coaches if you have them) be able to provide feedback to students on their digital stories?
How much class time can you devote to digital storytelling, and how much can you assign to your students to accomplish outside of class?
Once you have determined the way you'd like to use digital storytelling in your course, the next step is to review what you'll need.
You may be able to require students to bring their laptops or structure the assignments in such a way that they can work out of the classroom on their digital stories. But I have found that it is a wonderful gift to your students to devote class time to allow them to work on their stories. It also means you are there in person to answer questions as they work.
This just needs to be a space that has a door and is as quiet as possible and free from outside interruptions. Students can record their narration on their own or it can be part of the class. In my course I set up the class time so that students would be working on their writing and collecting images while I took them one at a time to another room to record their narration. Ideally, you are there to give feedback and help them relax, but for large enrollments, this would be challenging. External mics (meaning something plugged in rather than relying on the built-in computer mic) are cheap and easy to use (see Appendix D).
If you are not comfortable serving as your own tech support, you will need to find others who are. You can poll the class for potential tech supporters or call UCF's Office of Instructional Resources (OIR – https://oir.ucf.edu/)
The editing program I recommend, WeVideo, is very easy to use. It is designed for people who are not tech-savvy. Once you have used it yourself, you will be well-versed enough to teach and support your students. And needless to say, they are faster than we will ever be at grasping a new software and running with it!
The best way to inspire ideas on how to incorporate digital storytelling in your class is to watch some digital stories. Here's one that one of my students created for my Introduction to Production class:
Here's the link to my Dropbox where the video lives. https://www.dropbox.com/s/a2ilqfvwyf4mdmg/SARA%20HERNANDEZ%20VALLEJO-DIGITAL%20STORY.mp4?dl=0
Another source for stories is The Center for Digital Storytelling. They have a huge archive of digital stories from their ongoing international workshops: https://www.storycenter.org/stories
I know that it sounds daunting at first. There is a lot to tackle the first time if you're not familiar with the tools. But the payoff is worth the effort. We are all telling stories all the time. The digital storytelling process is just about getting it into a format that can be shared with others in an exciting audio/visual way.
Create your own digital story. Take a workshop or find a step-by-step online somewhere and face your fears about the tech part of it. If we are asking our students to try something they've never tried before,  we have to be able to do that ourselves. I believe you will find that with just a little bit of effort, you will find the process powerful rather than daunting, engaging rather than humiliating, and productive rather than futile. And it's fun!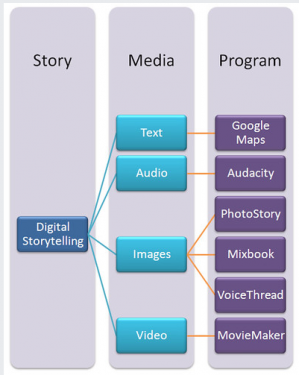 Nguyen, Mong Thi T. "The Digital and Story in Digital Storytelling." Deep Stories: Practicing, Teaching, and Learning Anthropology with Digital Storytelling, edited by Mariela Nuñez-Janes et al. 72–89 1st ed., De Gruyter: Berlin/Boston, 2017. 
Porter, Bernajean. "The Art of Digital Storytelling." Creative Educator, Tech4Learning, Inc., creativeeducator.tech4learning.com/v04/articles/The_Art_of_Digital_Storytelling.
Simmons, Annette. The Story Factor: Secrets of Influence from the Art of Storytelling. Cambridge, MA : Perseus Publishing, 2001. 
Tolisano, Silvia R. "Digital Storytelling: What It Is… And… What It Is NOT: Silvia Tolisano- Langwitches Blog." Silvia Tolisano Langwitches Blog, Langwitches, 18 Aug. 2018, langwitches.org/blog/2015/08/18/digital-storytelling-what-it-is-and-what-it-is-not/.