The Office of the Quality Enhancement Plan: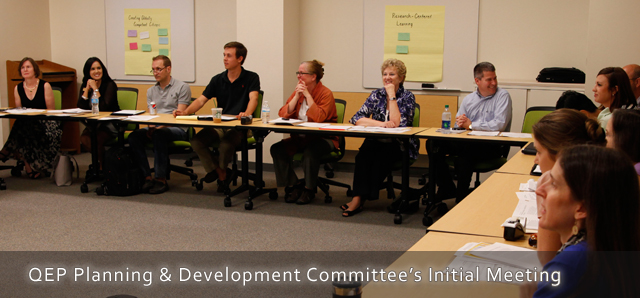 The 2016 QEP is called What's Next: Integrative Learning for Professional and Civic Preparation. The vision of this initiative is that students will graduate with integrative learning experiences that have prepared them for their professional and civic goals, the ability to persuasively articulate and demonstrate their skills, and the capacity to transfer their skills and intentional learning strategies to new contexts. Consequently, graduates will be able to successfully enter and participate in the next steps of their professional and civic lives.
The Quality Enhancement Plan (QEP) is an important component of UCF's reaffirmation process through our regional accrediting body, the Southern Association of Colleges and Schools Commission on Colleges (SACSCOC). Core Requirement 2.12, in The Principles of Accreditation: Foundations for Quality Enhancement, states that the institution must develop an "acceptable Quality Enhancement Plan (QEP) that includes an institutional process for identifying key issues emerging from institutional assessment and focuses on learning outcomes and/or the environment supporting student learning and accomplishing the mission of the institution." (2012, p. 21).
The QEP is a plan of action developed and implemented by the faculty, staff, students, administrators, and community partners in Central Florida that gives the university an opportunity to improve student learning. The requirements of the QEP correspond well with the university's mission, vision, goals, and strategic plan. As UCF prepares for reaffirmation of accreditation in 2016, we invite your active participation in the planning, development, and implementation of the new QEP.