Spring 2022 Academic Advising Update
- Students interested in declaring Environmental Studies BS, Integrative General Studies BGS, or any of our minors or certificates may apply through the myUCF portal*. Students interested in declaring Interdisciplinary Studies BA or BS or the IDS BA - Diversity Studies track will need to meet with an academic advisor to complete the major declaration process. All students interested in changing their major will be given access to a Webcourse designed to facilitate the selection of an appropriate major. Prospective students are eligible to meet with an academic advisor after reviewing the Webcourse.
Students already declared in the Environmental Studies, Integrative General Studies, Interdisciplinary Studies, or IDS - Diversity Studies majors may scheduling an advising appointment through their myUCF - myKnight STAR portal. Detailed instructions are located here.
*Currently declared Interdisciplinary Studies BA/BS students cannot make changes to their programs of study via the myUCF portal. Students must consult with an academic advisor in CUGS-IDS to update their program via a form process.
Interdisciplinary Studies
College of Undergraduate Studies
Choose Your Own Adventure
The College of Undergraduate Studies – Interdisciplinary Studies offers several majors, minors, and certificates that incorporate a broader scope of curricula than traditional disciplinary academic programs. Our major programs of study include the Bachelor of Arts or Bachelor of Science in Interdisciplinary Studies, Bachelor of Arts in Interdisciplinary Studies – Diversity Studies Track, Bachelor of Science in Environmental Studies, and Bachelor of General Studies in Integrative General Studies.  Each of our degree programs offers students an opportunity to tailor their curriculum to best reflect their interests and needs.  In addition to our majors, we offer minors in Environmental Studies, Leadership Studies, Diversity Studies Leadership, and Genomics and Bioinformatics.  We also offer undergraduate certificates in Leadership Studies, Geographic Information Systems (GIS), Service-Learning (S-L), and Diversity Leadership. 
Are you ready to begin or continue your academic journey and would like to discuss how an Interdisciplinary Studies, Environmental Studies, or Integrative General Studies degree may prepare you for your desired future? Request an appointment to speak with an academic advisor who can help guide you on your academic journey.
Explore our majors in Interdisciplinary Students, Diversity Studies, Environmental Studies, and Integrative General Studies to determine if one of these academic pathways leads to your goal.
Minor programs of study allow students an opportunity to engage with a structured curriculum to develop some degree of content mastery in an area of academic specialization that complements their major. Interdisciplinary Studies offers four minors.
Certificate programs offer students a focused academic experience geared towards career preparation and readiness. Interdisciplinary Studies offers four undergraduate certificates.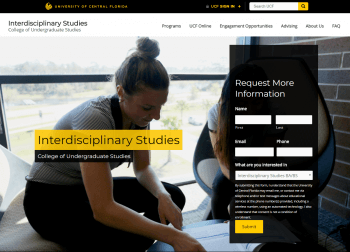 Welcome to the new and updated IDS website! We hope you'll have fun browsing through and that you'll find all you're looking for and need.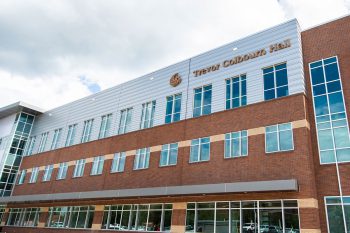 Interdisciplinary Studies is in its new building, the Trevor Colburn Hall on UCF's main campus. You can find us in Suite 239. Our programs include Interdisciplinary Studies, Environmental Studies, Diversity Studies, and the new Integrative General Studies degree programs.