ALERT: In-Person Visits Suspended The College of Undergraduate Studies has suspended in-person meetings and walk-ins until further notice. Scheduled phone advising appointments will take place as planned, and in-person meetings will take place by phone. We're here to support you! If you have questions, please email us at is@ucf.edu.
Interdisciplinary Studies
College of Undergraduate Studies
Choose Your Own Adventure
The College of Undergraduate Studies – Interdisciplinary Studies offers several majors, minors, and certificates that incorporate a broader scope of curricula than traditional disciplinary academic programs. While our most popular program is the Bachelor of Arts or Bachelor of Science in Interdisciplinary Studies, we also offer a Bachelor of Arts in Interdisciplinary Studies – Diversity Studies Track, Bachelor of Science in Environmental Studies, and a Bachelor of Integrative General Studies.  Each of our degree programs offers students an opportunity to tailor their curriculum to best reflect their interests and needs.  In addition to our major programs of study, we offer minors in Environmental Studies, Leadership Studies, and World Comparative Studies.  We also offer undergraduate certificates in Leadership Studies, Geographic Information Systems (GIS), Service-Learning (S-L), and Cultural Tourism. 
Are you ready to begin or continue your academic journey and would like to discuss how an Interdisciplinary Studies, Environmental Studies, or Integrative General Studies degree may prepare you for your desired future? Request an appointment to speak with an academic advisor who can help guide you on your academic journey.
Explore our majors in Interdisciplinary Students, Diversity Studies, Environmental Studies, and Integrative General Studies to determine if one of these academic pathways leads to your goal.
Minor programs of study allow students an opportunity to engage with a structured curriculum to develop some degree of content mastery in an area of academic specialization that complements their major. Interdisciplinary Studies offers three minors.
Certificate programs offer students a focused academic experience geared towards career preparation and readiness. Interdisciplinary Studies offers four undergraduate certificates.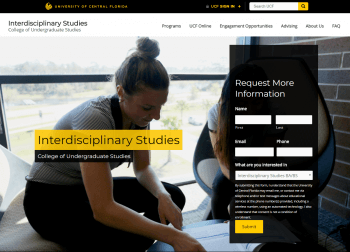 Welcome to the new and updated IDS website! We hope you'll have fun browsing through and that you'll find all you're looking for and need.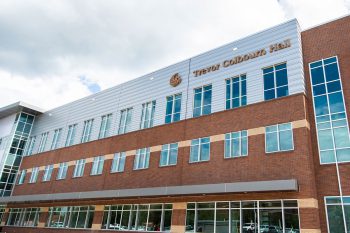 Interdisciplinary Studies is in its new building, the Trevor Colburn Hall on UCF's main campus. You can find us in Suite 239. Our programs include Interdisciplinary Studies, Environmental Studies, Diversity Studies, and the new Integrative General Studies degree programs.