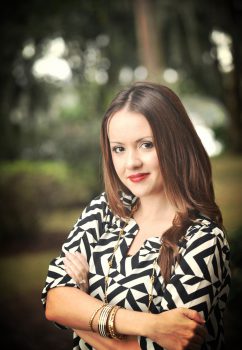 Major
Business Administration & Economics
Degree(s) earned at UCF and year degree(s) was/were conferred
MBA (2007) Dual Degree: BS Business Administration and BS Economics (2006)
Employer
AAA National (Heathrow, FL)
What do you do and how long have you been doing it?
Senior Program Specialist – Since December 2014
Manage national partnership programs including 1800Flowers, adidas Outlet, Reebok Outlet, Landry's Inc.
Support national partnership programs including, AAA Prescription Savings, and Hertz.
In what ways are you involved in the community outside of work?
Women's Executive Council – Member & External Communications Chair
Did you work full or part time as a UCF student? How do you think this helped you when you were seeking a permanent position?
I worked part-time throughout college. Working while attending UCF helped me gain invaluable experiences that cannot be replicated in the classroom. Dealing with managing multiple priorities, balancing school/life/work, time management skills, responsibility, and professionalism. These experiences are often sought after by employers and will help you stand apart from your peers when looking to begin a career.
What was your major? How did you determine your major? Did you change majors while at UCF?
I majored in Economics initially and really enjoyed the coursework and theories that I was learning about. I then added Business Administration as a second degree because I wanted to be well-rounded and understand all facets of business.
Are you working in the field of industry/business you thought you would? Is your career what you expected it would be? How is it different? How is it similar to what you expected?
No, but I did not really know what industry I wanted to work in. I really just wanted to work for an excellent brand. My career has been very different than what I would have expected. When I was in college I had a whole plan of going to work for a big company, in an office environment, and retiring there. It is different than what I expected because, while in college, I had very diverse work experience. One thing led to another in the jobs I held and eventually I found myself in the Office Furnishing industry. It is similar to what I expected in the sense that I worked for large companies with great brands—Knoll and AAA.
What advice would you give your 20-year-old self?
Details matter. Always dress for the job you want, not the one you have. Treat everyone equally, from the janitor to the CEO. Always do the right thing, even when no one is watching. When you say you will do something, follow through. Set expectations, then exceed them.
Would you hire your 20-year-old self? Why? Why Not?
Yes! I have always been told I am very wise beyond my years; I truly am an old soul. I have always been professional and well rounded. I am open minded, flexible, and accepting of change. I have maintained a high standard of integrity. I am confident and down to earth, not boastful or uptight. I get things done and I exceed deadlines and expectations. I always lift others up and compete only with myself.
What was the most valuable thing you learned at UCF?
Be yourself, lead and do not follow.
What person or group had the biggest influence on you as a student? Why?
Delta Sigma Pi professional business fraternity had the biggest influence on me. I learned how to conduct business meetings, resume writing, interview preparation, working in teams, building relationships, and business etiquette. This prepared me for real-world situations.
Looking back, what are you most proud of about your time at UCF?
I am most proud of having accomplished so much in a short period of time. I completed 2 bachelor's degrees in 5 years and my MBA in 1 year while working 35 hours a week, and commuting to UCF. It was a challenge but I am proud of accomplishing it.
What would you have done differently as a college student? Also, what good decisions did you make as a student?
I would have probably lived on campus. I feel like I missed out on the university experience since I commuted to school every day. Also, I was dedicated and focused on my studies. I never allowed others to influence me in a way that would move me off course.
What was your most valuable experience outside of the classroom and why was it valuable for you?
How to work with different backgrounds, experiences, personalities etc. Coursework does not teach you that, experience does. It is so valuable because it teaches you to understand that not everyone is created equal, not everyone does things the same way, and not everyone reacts to situations how you might think. I also learned that your choices determine your outcome, always make wise choices.