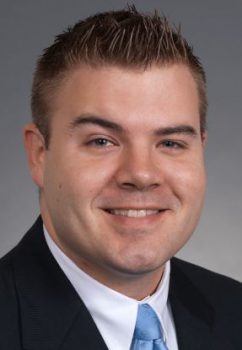 Major
Hospitality Management
Degree(s) earned at UCF and year degree(s) was/were conferred
Hospitality Management (2010)
Employer
Sole Proprietor with Chick-fil-A at the Mall at Millenia
What do you do and how long have you been doing it?
Chick-fil-A Owner/Operator since 2012
In what ways are you involved in the community outside of work?
We partner with numerous community organizations in order to help them reach the specific goals they have for their programs including schools, churches, athletic teams, clubs and other local organizations.
Were you a transfer student? From what school? How would you describe your transition to UCF? What advice would you give students transferring to UCF?
I transferred to UCF from Florida State University in order to be closer to home as I was from Orlando. The transition was very easy; however, the culture was much different from FSU. I found UCF to be much more modern in their processes and curriculum.
What was your major? How did you determine your major? Did you change majors while at UCF?
My major was Hospitality Management. I knew that I wanted to study hospitality when I took Intro to Hospitality (HFT 1000) with Doc Terry. I had always known that I had a heart for serving others but was searching for the right avenue to express that trait. The hospitality industry just spoke to me.
Are you working in the field of industry/business you thought you would? Is your career what you expected it would be? How is it different? How is it similar to what you expected?
Yes and no. When I thought about what I wanted to be true about myself in my career, I knew that I needed to be making a difference in the lives of people and I also needed to know that I could make a real difference in my community through my career. I never thought that it would come through the restaurant industry, however, Chick-fil-A enables me to live out the purpose that I established for my life. My young career has been extremely rewarding so far.
What advice would you give your 20-year-old self?
I would have challenged myself to spend more time focusing on what my personal purpose was for my life and how I could pair that personal purpose with a corporate purpose. I believe this to be the secret to true happiness in any career. When a personal purpose matches a corporate purpose, you have the opportunity to exercise those special characteristics about yourself that make you inherently unique.