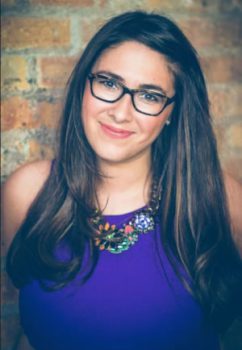 Major
Elementary Education, K-6 and Curriculum and Instruction, K-12
Degree(s) earned at UCF and year degree(s) was/were conferred
B.S. (2006) and M.Ed. (2009)
Employer
RYE Consulting (Chicago, IL)
What do you do and how long have you been doing it?
Three years ago, after working in Education in the classroom, policy, and corporate level, I decided to go off on my own and founded RYE Consulting. Now as a team of 5 based in Chicago, we focus on engaging clients from PreK through HigherEd creating a pathway to innovation with scaffolded support. RYE Consulting partners with start-ups, school districts, foundations, education companies, and advocacy organizations in the education space to help innovate and scale through procurement, strategic relationships, curriculum, professional development, and business operations. RYE has been recognized by Chicago Inno two years in a row as a top innovation company in Education, and I have hosted the EdTech panel for TechWeek in Chicago, Kansas City, and Dallas.
What advice would you give your 20-year-old self?
Take a business or finance class! I think now it's more acceptable to take courses outside of your major but in early 2000 you stayed in your lane. Regardless of where you end up, having a foundation in financial literacy, budgeting, and creating a project or business plan is an invaluable skill in your personal and professional life.
Would you hire your 20-year-old self? Why? Why Not?
Absolutely! Growing up in a family business, I was exposed to every facet of the company from sales and marketing to inventory control. Having a wide range of exposure and responsibility taught me the importance of how each role supports one another. Understanding the value of each facet of the business, and seeing my fatheru2019s dedication to his staff and clients instilled a strong work ethic in me that has carried me throughout my life into owning my own business.
What person or group had the biggest influence on you as a student? Why?
I am incredibly lucky to have Dr. Juli Dixon as my professor, mentor, and friend. Since taking her class Sophomore year, she has made a significant impact on me personally and professionally. Dr. Dixon encouraged me to see beyond the classroom, and engage in opportunities to advance my career. She served as my Thesis Chair when I participated in Honors in the Major, introduced me to my internship at Harcourt, and has been my champion throughout my career. In addition, she has been a role model as a professor, author, consultant, wife, and mother—she has been an incredible example of the importance of balance and prioritizing.
What was your most valuable experience outside of the classroom and why was it valuable for you?
Interning at Harcourt during my time in the College of Education gave me exposure to the education field outside of the classroom. This hands-on experience helped me understand how my degree could be implemented in a different way by supporting the education and marketing from a business side. During my time at Harcourt, I learned how policy, marketing, and procurement shaped the curriculum and materials teachers had in their classroom. This engagement shaped my career path, and provided me the foundation for taking my knowledge as an educator to help businesses innovate their classroom offerings.