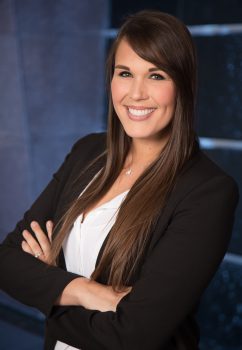 Major
Hospitality Management
Degree(s) earned at UCF and year degree(s) was/were conferred
Bachelor's degree in Hospitality Management as well as a Bachelor's degree in Restaurant and Food Service Management (2013)
Employer
Merrill Lynch (Downtown Orlando, FL)
What do you do and how long have you been doing it?
I am a Financial Advisor with Merrill Lynch and I have been with the company for one year.
In what ways are you involved in the community outside of work?
I am very involved in The Christian Sharing Center and chair one of their events every year and have just become a dedicated volunteer for the Rosen Alumni Association.
Did you work full or part time as a UCF student? How do you think this helped you when you were seeking a permanent position?
In my freshman year of college, my first hospitality professor, Dr. Mary Jo Ross, asked our class on the first day, "How many of you have a job right now?" Out of 50-60 students, about eight people raised their hand.  To follow that question, she stated, "If you want to be successful in this career, you need to get a job and start gaining experience now."  I always valued her honesty and immediately went out and got a job within the hospitality field.  All throughout college, I maintained a part-time job and 4.0 GPA.  My employers knew that school would always come first and absolutely respected that.  As I came close to my graduation date, my Food and Beverage Director at the time approached me about a Supervisor position for a restaurant in the hotel where I was currently working.  Without my dedication and experience, I wouldn't have had that full-time, leadership opportunity right out of college.  Yes, it was sometimes difficult to balance both and try and maintain some sort of work/life balance, but I wouldn't be in the position I am today without that advice.
Are you working in the field of industry/business you thought you would? Is your career what you expected it would be? How is it different? How is it similar to what you expected?
As a freshman starting at UCF, my desire was always to work in food and beverage industry within hospitality. I have two degrees: one in Hospitality Management and the other in Restaurant & Food Service Management.  Out of college, I obtained a Supervisor role for a luxurious hotel brand.  I was able to gain tremendous experience before transitioning to another luxurious hotel brand.  Within six months of my transfer, I was promoted to the Outdoor Dining Manager.  I was using my education daily within my role, but was consistently working a minimum of 60 hours a week, including all holiday weekends, and no set days off.  I decided to make a career change and help people in a different way.  Instead of focusing on peoplesu2019 short term needs (immediate requests, birthday celebrations, food complaints, etc.), I transitioned into a career that focuses on long term goals (retirement planning, education savings, life changes, etc.).  Although I am no longer in hospitality and have transitioned into financial advising, I still use the skills and knowledge I learned from hospitality on a daily basis.  I am able to relate to people and help them just as I did while I was a Food and Beverage Manager.  Both industries are relationship driven and both require long hours, but I feel as if my choice to transition was the right one and I am able to make a bigger difference in people's lives.
Looking back, what are you most proud of about your time at UCF?
UCF introduced me to the best friends I could ever ask for! I would have never met these people if I didn't put myself out there and join a couple clubs, including my sorority.  I challenge every student to put themselves out there and meet as many people as possible.  I can't even begin to tell you how many times I have come across UCF alumni during my professional career that has led me to further opportunities.  Additionally, I met my fiancé at UCF over six years ago and couldn't be more grateful.  Overall, I am most proud of the relationships I was able to develop with friends I will have for a lifetime!