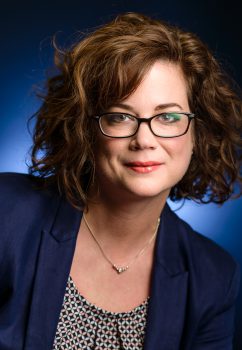 Major
Finance; English
Degree(s) earned at UCF and year degree(s) was/were conferred
BS in Finance (2001); BA in English (2007)
Employer
Self-employed (Red Label Writing)
What do you do and how long have you been doing it?
I am the sole proprietor of a writing, editing, and content strategy firm called Red Label Writing. I have been working in this manner for just three months, and I could never see myself going back to traditional corporate life. I work when I want (which is often) and from where I want.
In what ways are you involved in the community outside of work?
I am a volunteer with CASA Denver. CASA volunteers go through four months of training to represent abused or neglected children in court.
Are you working in the field of industry/business you thought you would? Is your career what you expected it would be? How is it different? How is it similar to what you expected?
I never thought I could make a living doing what I love, but it's absolutely possible. My career has been nothing close to what I expected it to be. I started off as a bond trader and analyst with a small Winter Park investment firm after graduating from UCF the first time (BS in Finance) in 2001. I hated it. However, it did provide me with the opportunity to begin writing about finance and investments, which I truly loved. I decided to quit that job, and go back to UCF to earn my degree in English. At that point I was going to school full time, working in catering full time, and freelance writing part time. I guess I was crazy. After graduating UCF with my second degree (BA in English) in 2007, I packed up my car and moved to NYC. I was clearly still crazy. I slept on a friend's couch for a month, and soon found a job as an associate editor for a business trade publication. I worked in New York for six years, making my way from associate editor, to editor, to executive managing editor, to editor-in-chieff. I now live in Denver and work 100% freelance, allowing me great flexibility in my work schedule and travel. Speaking of which, in September I will embark on a one-year remote work program called Remote Year. I, along with a group of other remote working professionals will travel throughout Europe and South America, seeing the world all while doing our jobs. Life is good.
What was the most valuable thing you learned at UCF?
I learned many valuable things while at UCF, for use both in and out of the classroom. While majoring in Finance, I learned the age-old investment mantra, "high risk, high reward." I applied this heavily to real life, and it has paid off in great experiences. While majoring in English, Dr. Anna Jones taught us to think critically in terms of the narratives we were reading. There was also crossover here as I have applied this way of thinking to everyday life. Always ask questions!
Did you participate in co-curricular activities, like undergraduate research? An internship? A fraternity or sorority? A club or organization? Student Government Association? What did you learn?
I participated in the Financial Management Association, a student group of finance and accounting majors that was funded by the SGA. We were able to travel to Chicago and visit the Chicago Board of Trade, the Federal Reserve, the Chicago Mercantile Exchange, and dine at the restaurant atop the John Hancock Tower. It was quite an experience for students of that age.